In this tutorial i will explain how to patch your computer for allowing custom Windows 7 Themes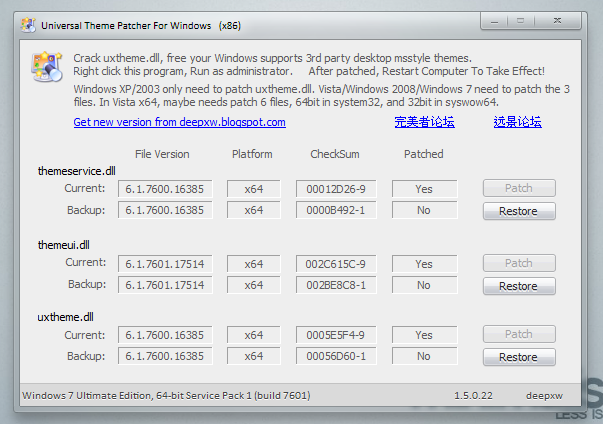 1. First you will need to click on the Download below to download and install the patcher, for Windows 7. Universal Theme Patcher, can be found here: Link to Download 2. When downloaded, unzip the file using a program like 7zip or similar once. 3. Ater unzipping the package, open the folder, and choose the corresponding patcher based on you Windows: For 32bit(x86): UniversalThemePatcher-x86.exe For 64bit(amd64): UniversalThemePatcher-x64.exe The program require administrator rights to run. Right-click the exe file, select Run as Administrator.
4. Windows 7 6801 need to patch 3 files: uxtheme.dll, themeui.dll, themeservice.dll Sometimes, in x64 Windows, you need to patch 2 more files, using UniversalThemePatcher-x86.exe to patch the 32bit files in \windows\system32 and using UniversalThemePatcher-x64.exe to patch the 64bit files in \windows\syswow64.
After patching is done, Restart your computer, to take effect.